Important information
No sales tax
No membership requirements
No automatic shipments
90 day FREE returns
FREE shipping on all orders over $75!
Product Information
Benefits
Helps reduce levels of microorganisms in wounds
Convenient for wound care management
How it Works
Nature's Sunshine Silver Shield Rescue Gel supports healthy wound care management. This water-based hydro gel restrains microorganism growth and works well as a topical treatment for minor cuts, abrasions, lacerations, irritations, and first or second degree burns. Tested and proven to help reduce common microorganisms and fungi in wounds, it helps inhibit the growth of Staphylococcus aureus, Pseudomonas aeruginosa, Escherichia coli, MRSA, Candida albicans, and Aspergillus niger.
Nature's Sunshine uses a patented process to manufacture Silver Shield Rescue Gel using Bioavailable Aqua Sol technology. This product contains 24 ppm of the finest particle-sized silver.
Ingredients (24 ppm - 3 oz. tube)
24 ppm proprietary silver solution
Recommended Use
Clean wound. Use clean applicator to liberally cover the wound with Silver Shield Rescue and secondary dressing. See enclosed package insert for complete use information.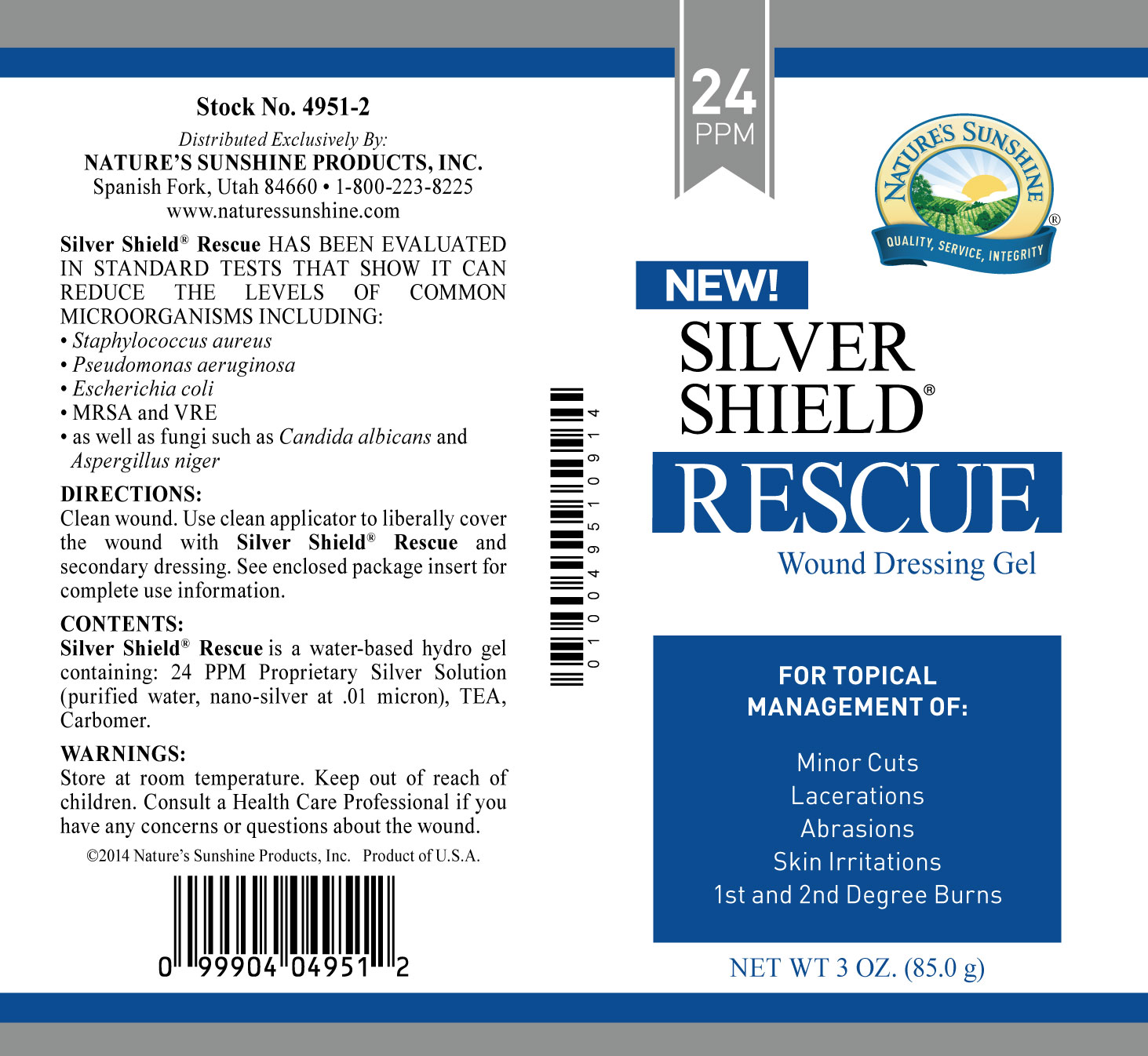 Easy Returns
The Caring Sunshine return policy is both easy and generous. We accept returns for any reason for 90 days from the order date and we cover the shipping costs both ways. Read our full policy here.
New label and other changes
In the fall of 2020, Nature's Sunshine switched to a new label and changed the names of a few products. However, no formulas have been changed. To learn more about the changes, click here.
Helps with burns & cuts
Awesome stuff! Helped heal a burn and a cut much faster! Also, calmed down the inflammation on son's ingrown toenail.
Silver shield gel
I've used it for about 20 years and I truly believe it's one of the very best products on the market. I've used it to treat everything from sunburns to hemorrhoids and yeast infections. It works! Thanks for continuing to make such a quality product at a reasonable price.♥️👍👍♥️
Silver Shield rescue Gel
I have been using Natures sunshine products for almost 30 years. They are of the highest quality and always work. The silver gel is a great healer and I use it often.
Caring Sunshine has quick and reasonable shipping. They are a good service.
I highly recommend buying from them.
right on time
thanks alot for my refund
Great product for so many uses
I've used this product for years but this was my first time ordering through Caring Sunshine. It was so easy and convenient!