Important information
No sales tax
No membership requirements
No automatic shipments
90 day FREE returns
Expiration Date: 3/2024
FREE shipping on all orders over $75!
Product Information
Benefits
High in soluble and insoluble fiber content
Rich source of essential nutrients
How it Works
The Nature's Sunshine LOCLO®, SynerPro formula provides essential fibers from psyllium hulls, apple fiber, acacia gum, guar gum, and oat bran. The SynerPro concentrate base included in LOCLO is a rich source of nutrients from the powders of broccoli flowers, tumeric root, rosemary leaf, red beet root, tomato fruit, carrot root, cabbage leaf, Chinese cabbage leaf, hesperidin, grapefruit bioflavonoid, and orange bioflavonoid. The formula also contains stevia leaf extract. One serving is 3.2 grams of soluble fiber and 0.6 grams of insoluble fiber for a combined 3.8 grams of total dietary fiber. LOCLO is sodium free.
LOCLO should be taken as recommended and good hydration is essential. Persons with esophageal narrowing or difficulty swallowing should avoid this product. Persons sensitive to inhaled or ingested psyllium may experience an allergic reaction.
Ingredients
Psyllium hulls, apple fruit fiber, cassia cinnamon bark, acacia gum, flax seed, fructose , guar gum, oat bran, citric acid, malic acid, stevia leaf extract, broccoli flowers, turmeric root, rosemary leaf, red beet root, tomato fruit, carrot root, cabbage leaf, hesperidin, grapefruit bioflavonoid, orange bioflavonoid
Recommended Use
Add approximately 1 level tablespoon to 8 ounces of cold water, once daily. Shake or stir vigorously and drink immediately. Caution: Take with at least 250 mL (8 fl oz) of liquid. Do not take this product if you have difficulty swallowing. May cause allergic reaction in persons sensitive to inhaled or ingested Psyllium.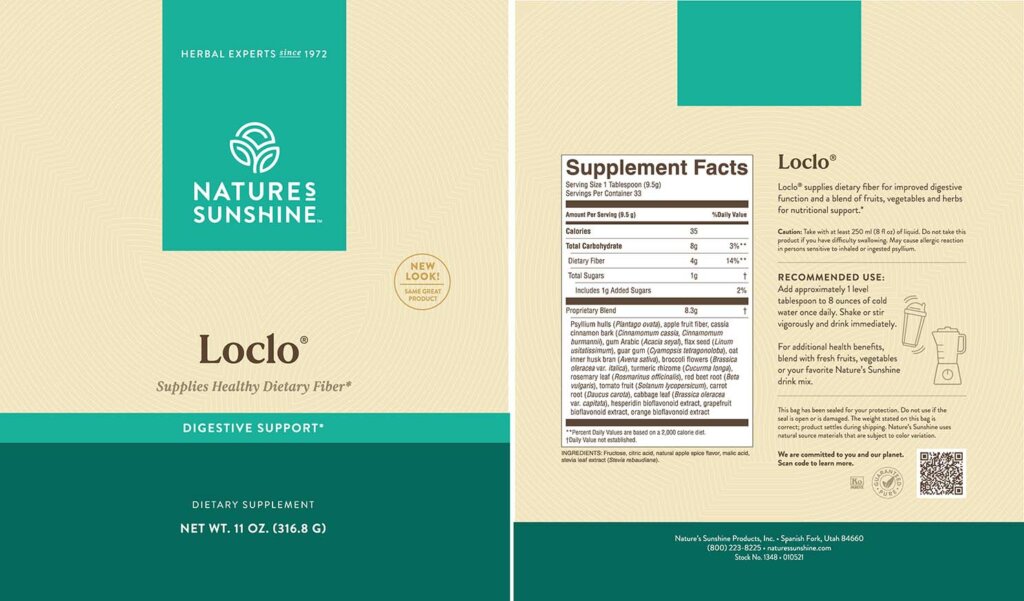 Easy Returns
The Caring Sunshine return policy is both easy and generous. We accept returns for any reason for 90 days from the order date and we cover the shipping costs both ways. Read our full policy here.
New label and other changes
In the fall of 2020, Nature's Sunshine switched to a new label and changed the names of a few products. However, no formulas have been changed. To learn more about the changes, click here.
Good Source of Fiber
Loclo is easy to drink -- it tastes like apples and gives good digestion.
I just love loclo
It been help me in loosing weight and y digestion is fabulous
Loclo Review
The Loclo firmed up my bowel movements. I've never had constipation problems, just too soft bowel movements. I also was getting high cholesterol and my numbers are now dropping but that is also probably due to the Red Yeast Rice I started taking.
Best digestive ever
I love this stuff! Been using it for over 15 years. Both digestive and bowel comfort.
Keeps me regular in very consistent matter.
The best!
Thank you!