Nature's Sunshine
Hydrangea
100 Capsules
Stock #: 395
Available Alternate(s):
Kidney Activator - 100 Capsules
Kidney Activator TCM - 30 Capsules
Important information
No sales tax
No membership requirements
No automatic shipments
90 day FREE returns
Shipping (1 unit): $2.99.
FREE shipping on all orders over $75!
Product Information
Benefits
Nourishes the urinary system
Nourishes the kidneys
How it Works
The beautiful hydrangea is good for more than just show. The Cherokee tribe first used it to support the health of the kidneys and introduced it to early American settlers who used it for similar purposes. With its bitter flavor and solvent properties, hydrangea nourishes the urinary system and provides the body with key nutrients including silicon, flavonoids, resins, and saponins. Each Nature's Sunshine capsule consists of 325 mg of hydrangea root.
Ingredients
Hydrangea root
Recommended Use
Take 2 capsules with a meal three times daily.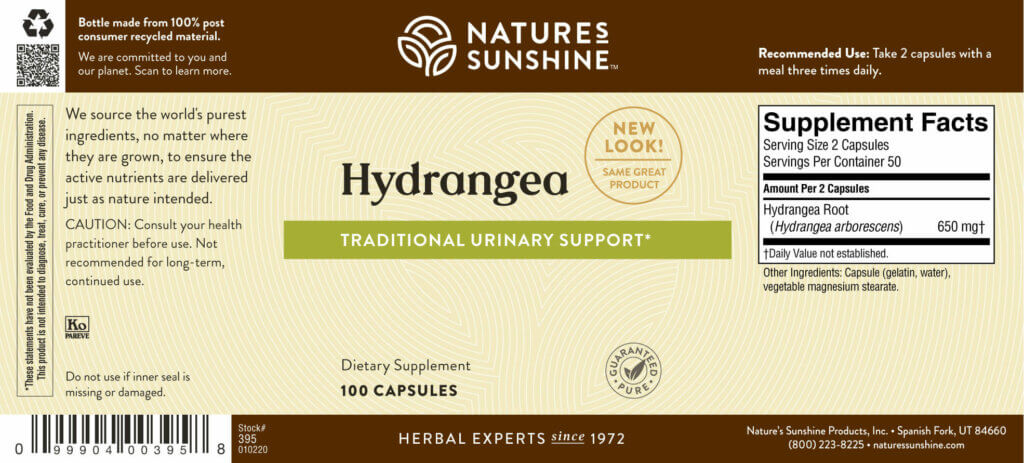 Easy Returns
The Caring Sunshine return policy is both easy and generous. We accept returns for any reason for 90 days from the order date and we cover the shipping costs both ways. Read our full policy here.
New label and other changes
In the fall of 2020, Nature's Sunshine switched to a new label and changed the names of a few products. However, no formulas have been changed. To learn more about the changes, click here.
Best herbs on the market
Natures sunshine is the most trusted name in herbs. Their potency is unsurpassed. I appreciate the timely manner in which I received my package as well. Specifically natures sunshine hydrangea has become part of my daily routine and therefore i have not had a kidney stone in 2 years.
Works Great
This definitely helped my daughter-n-law who was trying to pass a kidney stone along with 9 others in her kidneys. She passed all 10 in a little over a week! It worked!!
hydrangea
Occasionally I have an issue with kidney stones or urinary issues. My naturopath always recommends Nature Sunshine's Hydrangea or Urinary Maintenance for support for my kidney/bladder. I've never had any side effects and know that I am getting "quality" every time I place a Nature Sunshine order.